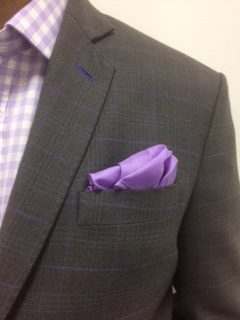 Welcome to the first of what we hope to be a regular feature of random subjects, some of which we hope you find fun and interesting.
For our first I thought we'd interview one of our very first clients, who we managed to snag whilst we trolled around Canary Wharf, London. I shall refer to him as DVS (he was looking for a Canary Wharf tailor). Interestingly enough, despite the reported downfall of the business suit, I would say about 90% of guys we saw walking around Canary Wharf were wearing suits (navy or grey in the main…come on guys, come and see us and we'll style you out just a tad…nothing crazy!!! There will be another article about that, as we have an opinion on it)…..so….
JE : Hi Sir, and thank you for your order which we think came out great, as you can see in this picture. And nice to see you wore a shirt that would compliment the jacket for your final fitting. Why did you decide to use our bespoke styling service?
DVS : When I first met Mark, his passion for what he does was obvious and infectious – he is a very engaging individual and very knowledgeable in his field. I have had bespoke suits in the past and was in the market for a smart / casual sports jacket and thought I knew what I wanted, but was also willing to listen to an expert.
JE: Did it add something to your normal bespoke shopping experience?
DVS : Yes, definitely. A few minutes speaking with Mark persuaded me that I would actually benefit from his advice and the service that he offered was not just "execution" only, i.e. get measured, choose the cloth and wait for delivery. He more or less opened my eyes to a slightly different style and look, recommending small, multiple changes to the type of jacket I had worn for years, to give me a subtle new look – all done in a very collaborative manner, but leaving the final decision to the client.
JE : Are you pleased with your jacket?
DVS : You can see the results here– a uniquely styled "sports jacket" that I could easily wear to an informal or more formal occasion. I love it and it is one of a kind, literally, so yes I am very pleased with it, and am happy to recommend Mark, his expertise and the "bespoke styling" service offered by J & E.
JE: Thank you DVS….next time we'll get you some dark purple trousers to go with the purple accents on the jacket!!!