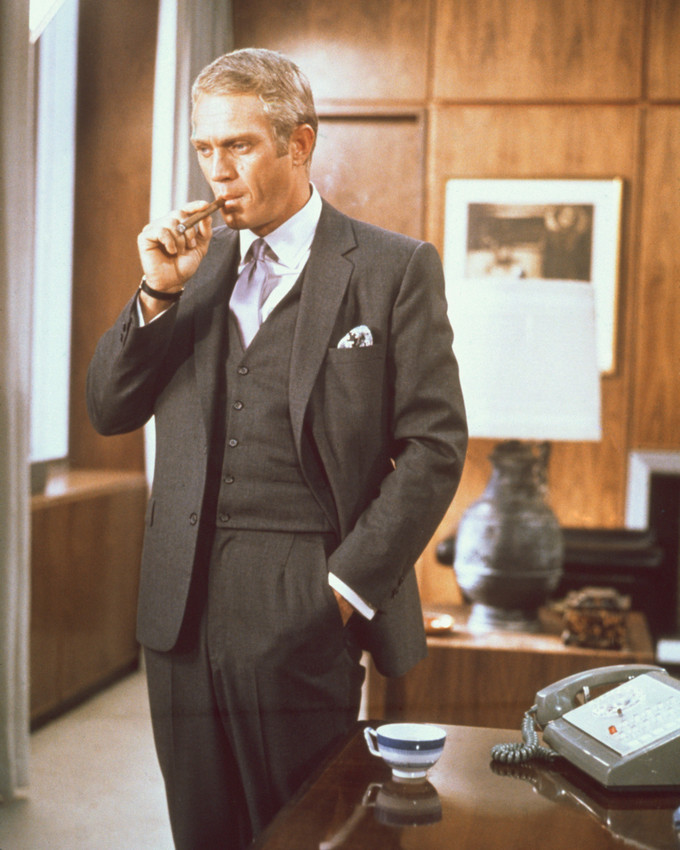 Well, when I say actors, I really mean characters that actors portray, don't I? Do you think Steve McQueen (above) dressed as "Thomas Crown" off camera? Of course, there are many of these lists, and it is totally subjective, but here at J & E I just wanted to create a list that REAL guys could relate to, and perhaps aspire to, sartorially of course –
So, in no particular order –
1) Sean Connery as James Bond – well it just has to be up there doesn't it? Of all the actors who have inhabited the role, I think the way he wears his suits in the first five films are timeless, and are a good inspiration for today's styles. Whilst you wouldn't consider his suits to be considered slim fit, they do look really tailored, as they were by Anthony Sinclair on Conduit Street (or off Savile Row!!) in Mayfair. Classic cloths, slim(ish) lapels, English silhouette, narrow trouser hem with a single break……it's all in the details!! I'd also like to mention George Lazenby's only attempt at the role – his classic English wardrobe would not look amiss today, and he wore it well.
2) Steve McQueen as Thomas Crown (above) – is that a single pleat we see? That's ok, although most of us shudder at the thought of pleated trousers. Flat front still reigns, but it works for Steve. I guess the point is, you can pull off anything if you own it, and here he looks pensive and relaxed, not giving a damn.
3) Eddie Redmayne as well, Eddie Redmayne – now here's an actor who knows how to own the suit he wears. It helps that he is very slim, and can pull off a lot of different looks because of it. Would REAL guys dress like him? Some of his looks, yes. I've included him in this list because as this GQ article succinctly puts it, he can inspire you to start wearing suits.
4) Daniel Craig as James Bond – what….James Bond twice?….Well what did you expect? I've included Daniel Craig's interpretation partly because I came across an Esquirearticle that dared to criticise his look as being too REAL – he looks like he's "ready to catch the 08.17 into Waterloo". Well if I looked liked that on my morning commute, I wouldn't complain. My take on Daniel's Bond suits is that they are a little snug – I wonder how many wardrobe malfunctions have occurred as he's running around the world trying to save it. Point is, we can dress like him.
5) Michael Caine as Alfie (this trailer is quite funny!) – now here is a real man playing a male fantasy figure (from the 1960s point of view might I add), and the way he wears his clothes is as real as it gets, if only a little on the stylish side.
There you have my tuppence worth of style inspiration from the world of film. These guys dress as we do, or would like to, and do it with style.
Tip:
Read this post
crank up James Bond theme
open your wardrobe
see what happens……..style!!!