Let's face it, there is only so much you can do with a man's suit to keep it up to date, add variation and make it distinctive, in a way that would appeal to everyday guys. The odd tweak in lapel width, jacket length, hem width etc. keeps things contemporary, but patterns and colours remain steady. This post is about patterns and their origins, as they have become accepted as part of the uniform. Beyond the few described here, you won't find a floral pattern suit in the wardrobe in the average CEO now would you???
PINSTRIPES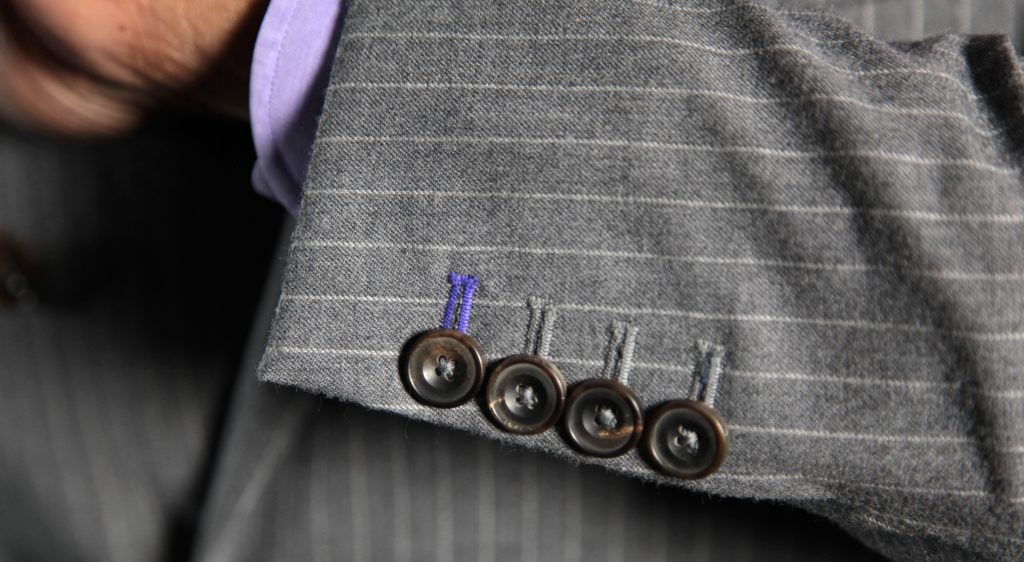 There seems to be be various schools of thought regarding the origin of the pinstripe as a pattern for a suit. I'll leave it up to you to decide which you prefer, as there does not appear to be a consensus out there.
First of all, it's called a pinstripe because –
typically the distance between each thin single-yarn woven stripe is quite narrow (narrow as a pin)
the actual stripe itself resembles a straight line of small pinheads.
Business Origin – 19thcentury British bankers wore striped "uniforms" as a way to distinguish themselves as bankers, and different stripes represented different banks. Typically, the stripe was a lighter colour than the main cloth, and that 'darker cloth with lighter coloured stripe' still dominates as a more formal/business look.
Sporting Origin -– 19thcentury English boaters wore slightly more flamboyant striped blazers, again to distinguish themselves as more sporty. Also, some baseball team uniforms have pinstripes, most famously the New York Yankees. The first team to sport pinstripes though were the Chicago cubs in 1907. Sporty stripes are a little further apart, and the stripes are usually a darker colour than the main cloth. Again this translates into the modern sports jacket – dark stripe against a lighter cloth is typically a more casual look.
Pinstripes gained popularity in the USA during the 1920's and 1930's as gangsters and jazz musicians sought to distinguish themselves from the squares. Pinstripes have since settled down into a sober business look more often than not. The Henley Boating Regatta still has an abundance of traditional boating stripes.
Chalkstripe – a variation of the pinstripe, a thicker, multiple yarn woven stripe and literally looks like a chalk line.
HOUNDSTOOTH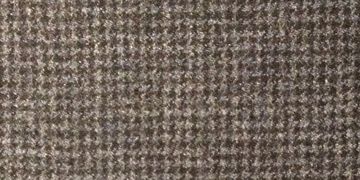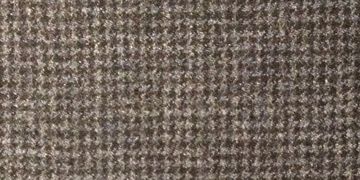 Personally, I love this pattern, especially when it is on a small scale. Makes for a great autumn suit, or sports jacket with a pair of black trousers, white shirt, black silk knit tie….feeling that 60s vibe?
The twill weave checked pattern are a series of dark and light threads woven together and the resulting pattern resembles dog teeth!!!! In fact, the pattern was originally known as Dogtooth and first appeared on Scottish sheepherders in the 17thCentury, before being adopted by some Scottish Clans the following century. From there, British Royalty, notably Edward VII, started to sport this pattern, and as always it then made it's way into the more mainstream.
GLEN CHECK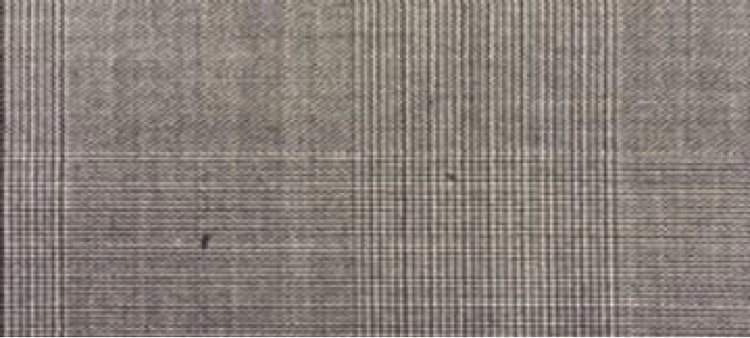 Love this is in a suit – Goldfinger anyone, the ultimate James Bond suit? Great sports jacket in a heavier cloth and more contrast colours.
This pattern's origins are more signatory than the others, denoting which Scottish clan you belonged to in the 19thCentury. The very first has been attributed to the Countess of Seafield in the valley of Glenurquhart, Invernessshire as her estate's signature tweed. Made popular again by Edward VII, Prince of Wales as everyday wear. Hence it's commonly know as a Prince of Wales check.
HERRINGBONE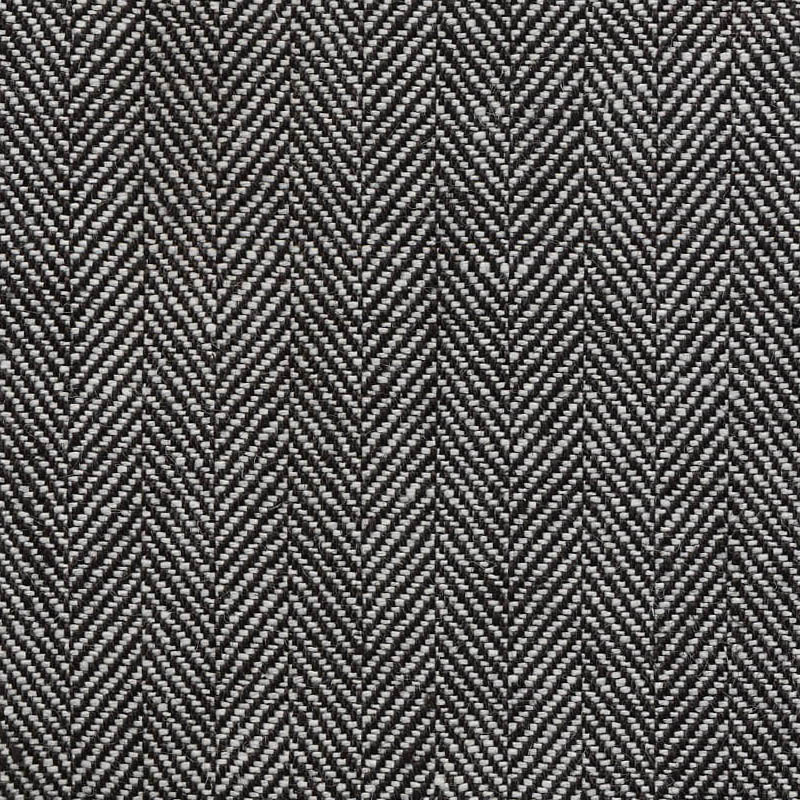 As the name suggests, this placement of the chevrons in this pattern resemble the bones of a fish. It works particularly well in a sports jacket, although it can also work well in a suit if in a dark navy or black, and is small in scale.
It's origins can be traced back all the way to the Roman Empire and it's road building expertise. The "Opus Spicatum" pattern was the criss-crossing of stone slabs to make Roman roads. This pattern allowed the road to absorb movement. From there the Egyptians used the pattern in their textiles, and it's use can also be traced to Ireland where the remnants of a horsehair herringbone cloth from c.600 B.C. was found.
SHARKSKIN (PICK-AND-PICK)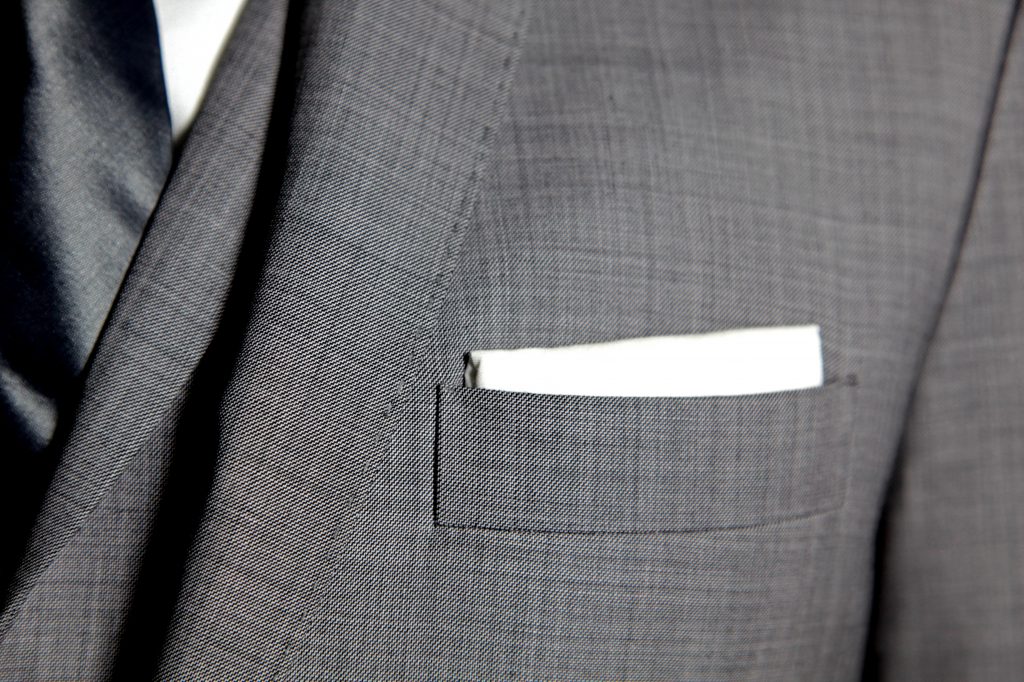 The plainest of patterns, this pattern is woven together using two different coloured threads in a twill weave to give the appearance of one colour in a lightly textured finish.
The most modern of suit patterns, it's origins date to the 1950s South America, as transplanted European weavers started to weave this pattern in small quantities.