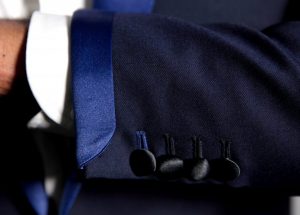 The picture here is of a navy blue dinner suit, with black satin buttons and a lighter blue satin gauntlet cuff, a modern take on the traditional black tuxedo.
TAILCOAT
Tailcoats are the most formal of all coats, and when you see white tie on an invitation, you'd better have a tailcoat. It originated from 18th century country gents' outer coats, cutaway at the front to make it easier to ride a horse. It has been considered formal wear since the middle of the 19th century.
The coat is black and single breasted. It's appearance is that of a double-breasted coat,  with buttons on both sides of the front opening, and it is never buttoned, showing off the contrasting white waistcoat and shirt.  The cloth is usually of a plain heavier black barathea material. Btw – never sit on the coat tails – "split" them over the sides of the chair.
DINNER SUIT
One notch less formal than "white tie", black tie calls for a dinner suit or tuxedo. An evening version of the lounge suit, it is black typically with satin lapels (notch, peak or shawl collar). Midnight blue is also an option. The Prince of Wales (Edward VII) is credited with first donning such a suit at the casino tables of Monte Carlo. In the US, the tuxedo is credited to tobacco tycoon Griswold Lorillard, who wore a short black jacket instead of the required tails to an autumn ball at The Tuxedo Park Club, New York.
Other accoutrements to the dinner suit include the satin strip down the side of the trousers, which should never have a turn-up, and a cummerbund or waist sash first adopted by army officers serving in India. The coat pockets should also be jetted – satin piping here is a nice touch. The white dinner jacket is of course only suitable for the tropics.
MORNING SUIT
This daytime tailcoat made it's appearance towards the end of the 19th century, and was in fact business attire (mainly bankers). After WW1, it became a little more formal than business attire. It is usually black, and worn with grey striped trousers and coloured waistcoat. You do  now see all grey morning attire, inspired by the once exclusive dress code at the Royal Enclosure at Ascot.
Source : "A Well Dressed Gentlman's Pocket Guide" – Oscar Lenius